Cosmetic Dentistry – Fort Worth, TX
Making Your Dream Smile
A Reality
When you look in the mirror at your smile, does your mood dampen because of dental discoloration and damaged teeth? These are common cosmetic flaws that many people just accept that they'll have to live with. Instead of watching your self-esteem and confidence decline due to being embarrassed when you grin, you can visit your cosmetic dentist in Fort Worth, Dr. Brad McConnell. Our team is passionate about providing custom-tailored options for cosmetic dentistry in Fort Worth, TX that make a big difference in how comfortable you feel showing off your smile.
Why Choose Harris Parkway Dental Care for Cosmetic Dentistry?
Custom-Tailored
Cosmetic Treatments
Experienced & Friendly
Dental Team
Several Hassle-Free
Payment Options
Porcelain Veneers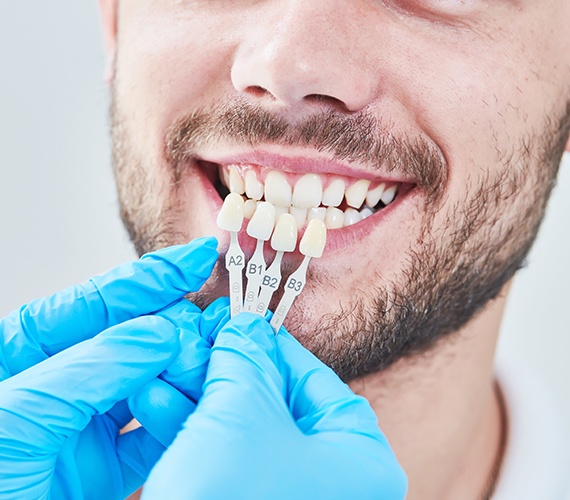 If you have a multitude of cosmetic flaws that you're wanting to have fixed, porcelain veneers are a great one-stop-shop treatment. They're thin, durable shells that are placed over the visible surface of your teeth to conceal a range of imperfections, including discoloration, damage, and even slight misalignment. Once cemented to your prepared teeth, your smile will appear complete, even, and bright due to the fact that they're customized from color-matched dental porcelain that is virtually indistinguishable from your surrounding natural teeth.
Metal-Free Dental Restorations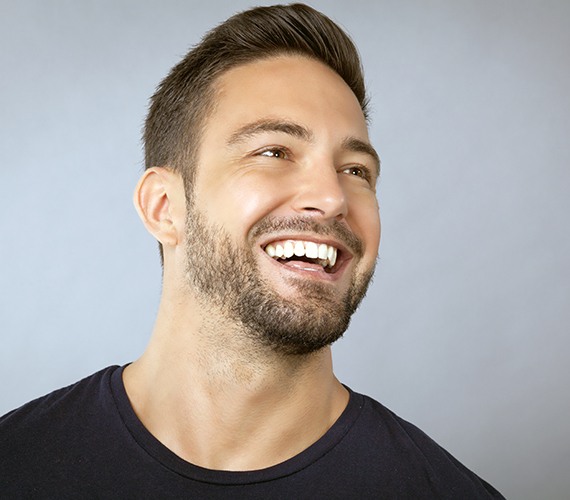 In the past, needing to have a damaged or decayed tooth treated meant having a bulky and noticeable metal restoration in your mouth. Fortunately, today, we utilize the latest dental techniques to provide you with lasting protection all while enhancing the aesthetic appearance of your grin. These crowns and restorations are made from materials like porcelain and composite resin that are gentler on the gums and teeth, eliminating uncomfortable side effects like dental sensitivity and tooth discoloration.
Cosmetic Dental Bonding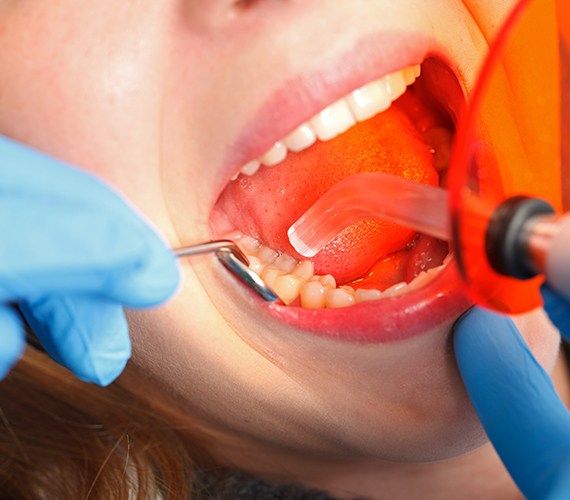 Each year, countless people chip and break teeth, causing their smile to look different, even if the damage is minimal. Instead of needing to invest in a more costly cosmetic treatment to fix it, we offer affordable dental bonding. Using color-matched composite resin, we'll sculpt the missing portion of your tooth and fuse it with your natural enamel. This rebuilds your completed smile so you can continue showing it off without feeling self-conscious about small chips and cracks.
Teeth Whitening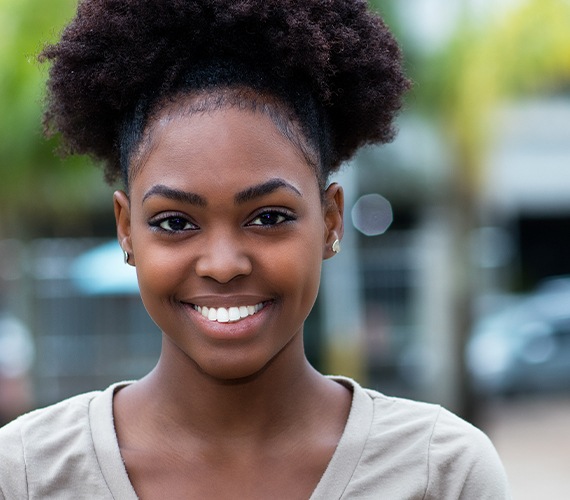 If you're busy and always on-the-go or want trustworthy teeth whitening that will provide you with the results you've been hoping for, we offer at-home and in-office treatment. Using high-quality and concentrated ingredients, we're able to provide you with radiant results in as little as two weeks with our take-home kit, and an hour with our in-office treatment. Instead of wasting money on over-the-counter products that get your hopes up, only to not deliver, invest in a clinically-proven teeth whitening treatment from your cosmetic professional in Fort Worth.
Learn More About Teeth Whitening
Gum Recontouring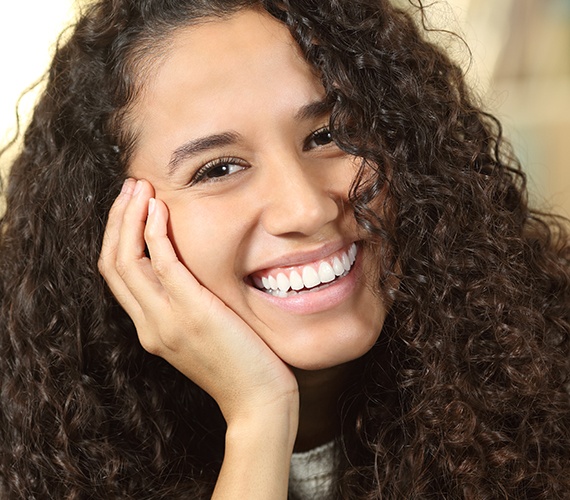 Are you self-conscious about your smile because it mostly looks like all you're showing off are your gums? Having a gummy grin isn't a great confidence-booster. Fortunately, Dr. McConnell offers gum recontouring, a straight-forward procedure where he re-sculpts your gumline and removes excess tissue to reveal more of your teeth. The result is a beautifully proportionate smile that looks great! To learn more, schedule a consultation today!
Understanding the Cost of Cosmetic Dentistry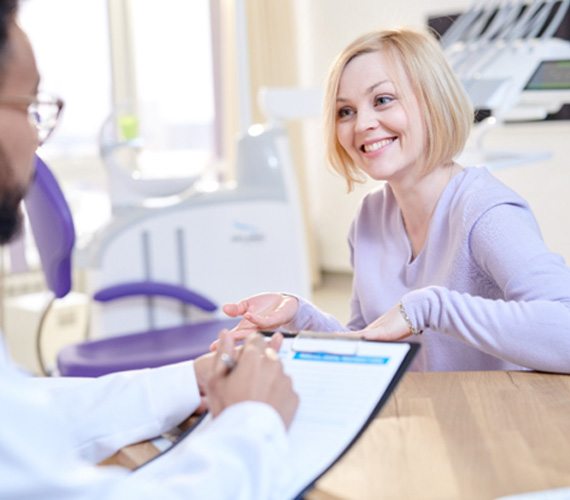 While cosmetic dentistry can often help improve minor dental issues, such as stains, chips, cracks, and gaps, it isn't usually covered by dental insurance. For this reason, you might be wondering what to expect from the overall cost of your treatment. Since every patient is different, we won't be able to provide you with an accurate estimate without first seeing you for an initial consultation. Until then, here are several factors that can play a major role in the cost of cosmetic dentistry in Fort Worth. Feel free to reach out to us if you wish to learn more.
Which Cosmetic Dental Service Is Right for Me?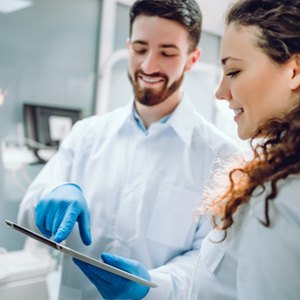 The best way to determine which cosmetic dental treatment is right for you is by first assessing your oral health. You'll have various smile-improving solutions to choose from, each with its unique price. You and our team will discuss which services work best for you and your wallet. Here are a few treatments we offer and what you should consider about the overall cost:
Teeth whitening – With either an in-office procedure or a custom take-home whitening kit, we can help brighten your smile with results that can last several months to a couple of years. To make the most of your treatment, you'll need to take proper care of your teeth and visit your dentist for checkups and cleanings biannually. This option, however, won't alter the size, shape, or spacing of your pearly whites.
Dental bonding – By using composite resin, we can sculpt over any affected teeth to improve the color, shape, and size to match your desired results. This is one of the most cost-effective options and can be completed in a single visit. The results will last several years before needing to be re-treated.
Gum recontouring – If your teeth appear too short or stubby, it may be due to excess gum tissue. With this procedure, we can safely and reliably alter your gum line to help reveal the beautiful pearly whites underneath. The results will be permanent, but they won't change the shade, size, or shape of your teeth.
Veneers – While this cosmetic treatment comes with a higher upfront cost, it provides the most comprehensive solution for dental flaws. These porcelain layers can conceal multiple imperfections simultaneously, and the results can last 15 years or more with proper care.
Cosmetic Dentistry Can Be an Investment Worth Making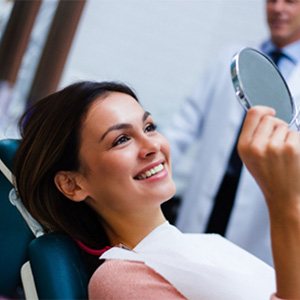 While cosmetic dentistry can seem like a major commitment, it's important to remember the incredible benefits you'll enjoy from enhancing your smile. Not only will you improve the appearance of your teeth, but it'll also be easier to care for them later on. You'll feel more comfortable showing off your smile, boosting your confidence in the long run. This can even improve your personal and professional opportunities, as others will find you more outgoing, competent, and attractive. When considering cosmetic dentistry, it's best to think of it as an investment in both your oral health and quality of life!
How to Make Cosmetic Dentistry Affordable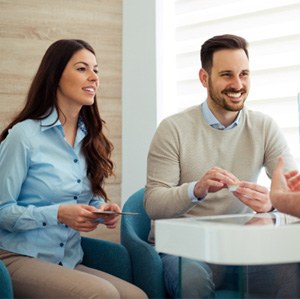 Since cosmetic dental services aren't typically covered by insurance, you'll want to explore alternative financing options to help you achieve your smile goals. To help make your treatments affordable, our team is proud to be partnered with third-party financiers like CareCredit and Compassionate Finance
They can help break up the overall cost of your treatments into monthly installments that come with little to zero interest. This means you may be able to achieve your desired results without having to break the bank.
Cosmetic Dentistry FAQs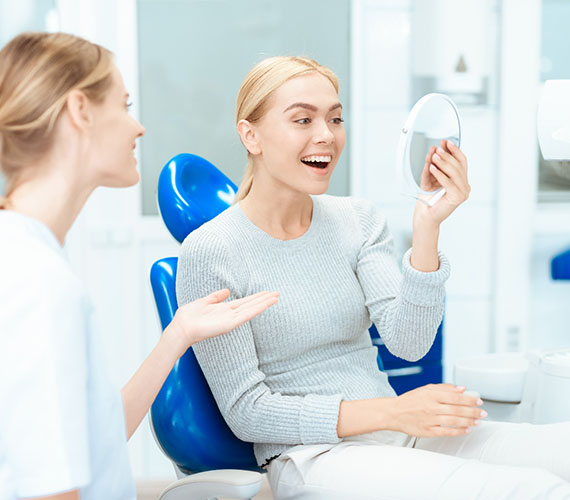 Are you ready to upgrade the way your smile looks? With a wide variety of options, you can be sure to enjoy pearly whites that can boost your confidence in the long run. Still, it's natural to want to know more about the treatments before committing to anything. That's why our team has compiled and responded to some of the most common questions our cosmetic dentist gets from patients in Fort Worth. Read on to learn more or give us a call today to schedule your appointment.
How Do I Know If I Need Cosmetic Dentistry?
Do you ever catch yourself hiding your teeth when smiling or laughing? Are there any dental flaws that you wish you could fix, such as chips, cracks, stains, or gaps? If so, then you might likely benefit from undergoing cosmetic dentistry. While it may seem more convenient to opt for store-bought products, like teeth whitening gel, they often won't provide you with the effective or longer-lasting results that your dentist can. Furthermore, dental imperfections that are due to minor damage to your teeth can typically leave your smile vulnerable to bacteria and future injury. With cosmetic dentistry, you can improve the appearance of your teeth as well as prevent further complications down the road with certain procedures, such as veneers.
Is Cosmetic Dentistry Safe?
Cosmetic dental treatments are usually safe for most patients, as long as you're getting your care from a qualified professional. That said, you'll need to undergo an initial consultation before committing to any of our procedures, as some will not be viable for every patient. Certain services can end up increasing the risk of complications if the affected tooth isn't treated first, like in the case of a cavity or gingivitis. Our team will first evaluate your oral health, address any developing problems we might find, and then move forward with your cosmetic treatment once we've confirmed you're in good condition.
Is Cosmetic Dentistry Expensive?
Cosmetic dentistry tends to be thought of as expensive, especially since most dental insurance companies won't provide coverage for these treatments. However, this doesn't automatically mean you can't enhance your pearly whites while working within your budget. Speak with our team and we may be able to help you explore alternative financing options, such as our in-house membership plan and third-party financiers like CareCredit. You should also remember the worthwhile investment you'll be making towards improving your self-confidence and overall quality of life by achieving your dream smile!
Does Cosmetic Dentistry Hurt?
Thanks to modern dental technology and techniques, most cosmetic procedures shouldn't be painful at all, especially if they're non-invasive like teeth whitening and dental bonding. We may not even need to administer a local anesthetic to keep you comfortable during your appointment. For more extensive treatments, such as veneers or gum recontouring, we'll do everything we can to ensure your procedure is as stress-free as possible, which usually involves numbing your mouth beforehand. Though you might experience mild soreness for a few days after your visit, it should be short-lived and easily managed with painkillers.