Implant Dentures — Fort Worth, TX
Achieve the Confident, Stable Smile You Deserve
Are you tired or frustrated with your removable dentures? If so, you're certainly not alone! While this traditional solution to missing teeth is more comfortable and functional than ever before, many patients find them difficult to work with over the years. Thankfully, they're not your only option for total tooth replacement anymore! At Harris Parkway Dental Care, we can help you achieve the confident, stable smile you deserve with implant dentures in Fort Worth. Read on or call us today to find out how!
What Are Implant Dentures?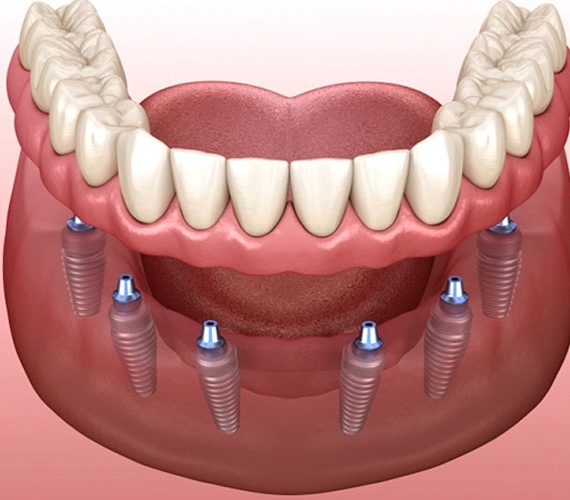 Implant dentures are a lot like traditional dentures in that they are a full set of lifelike replacement teeth set into a precisely crafted gum-colored base. However, instead of relying on natural suction to stay in place, the denture is anchored directly into the jawbone via dental implants. Dental implants are small titanium posts that essentially fuse with the jaw to replace the roots of the missing teeth. Depending on your unique needs and preferences, four to eight dental implants can be used to support a fixed or removable implant denture.
Fixed/Permanent Implant Dentures
These implant dentures are designed to stay firmly attached to the dental implants 24/7, only to be removed by a dentist. This means there's no need to remove them for eating, sleeping, or cleaning!
Removable Implant Dentures
On the other hand, removable implant dentures can be snapped onto and off of the dental implants by the patient. This feature allows the patient to enjoy some of the familiarities of their old removable denture while still benefiting from dental implants.
The Implant Denture Procedure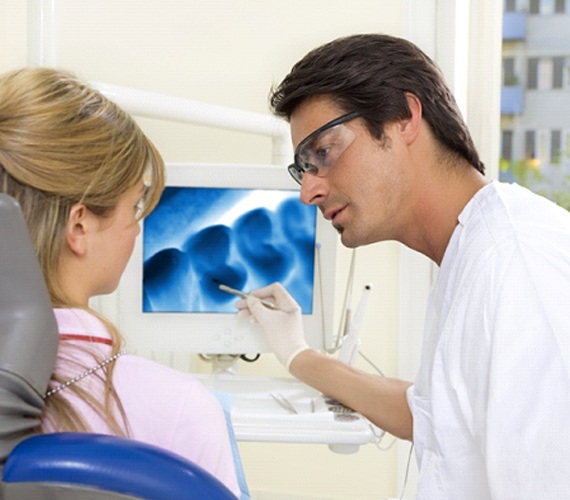 Getting an implant denture requires a slightly longer and more involved process than getting a traditional denture. First, you'll visit us for an initial consultation to see if implant dentures are right for you. Then, we'll perform your dental implant placement surgery right here in house by making a small incision in the gums and placing the dental implants in their designated areas. They will need anywhere from three to six months to heal completely. Then you'll return to our office to have your beautiful, custom-made denture fastened into place.
Am I a Candidate for Implant Dentures?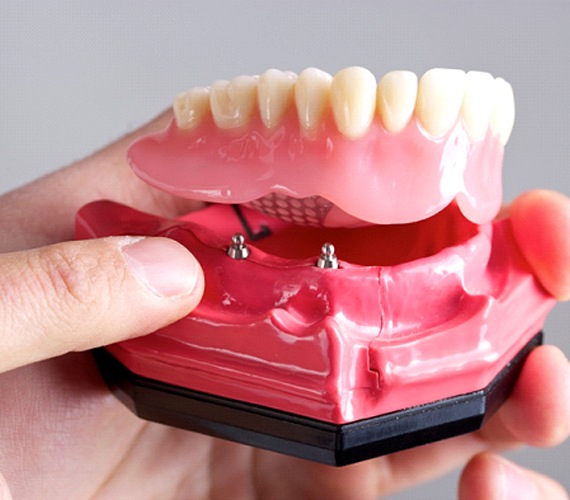 If you're missing all your teeth and are interested in implant dentures, there's a good chance that you are a good candidate for them! During your initial consultation, we'll look for three key factors to see if implant dentures are right for you:
Good overall health
Great oral health
Strong jawbone
Even if you're not a good candidate right away, we may be able to help you become one with preliminary treatments like gum disease therapy or bone grafting.
Benefits of Combining Dentures & Dental Implants
While implant dentures require more time and money than traditional dentures, they offer a wide variety of benefits that make them well-worth the investment, like:
Can be cared for like natural teeth
Will never slip around in your mouth
Preserves your jawbone density and youthful appearance
Restores 80% or more of your natural biting power
Allows you to eat steak, apples, nuts and more with ease
Has the potential to last a lifetime
Can lower your overall and oral healthcare costs