Dentures – Fort Worth, TX
Renew Your Entire Smile
Losing even a single natural tooth can be challenging; losing all of the teeth in your upper or lower arch can be downright debilitating. No matter what the reason for extensive tooth loss is, dentures are often the best solution for restoring your smile, allowing you to eat a healthy variety of foods and speak with confidence at work or at social gatherings. Call our office today to schedule a consultation with Dr. McConnell and see if dentures could help you regain a beautiful, functioning grin in the near future.
Why Choose Harris Parkway Dental Care for Dentures?
Long-Lasting, Lifelike Dental Prosthetics
All PPO Insurance Plans are Welcome
Dental Implants Placed In-House
What are Dentures?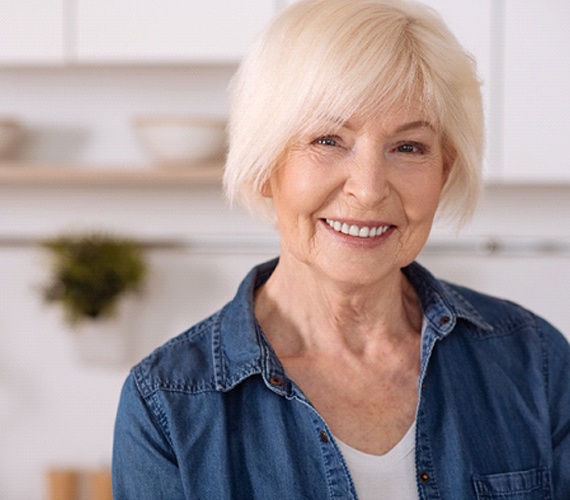 Dentures are artificial teeth and gums that are used to replace missing teeth. Full dentures can replace an entire row of teeth while partial dentures fill in gaps scattered throughout the mouth. Both consist of a gum-colored base and an appropriate number of lifelike teeth. Dentures can be made of a few different materials, but most of the time they're made from a special plastic called acrylic resin. Both types of dentures can be attached to dental implants for better stability, improved strength, and increased comfort.
What Does a Good Candidate Look Like?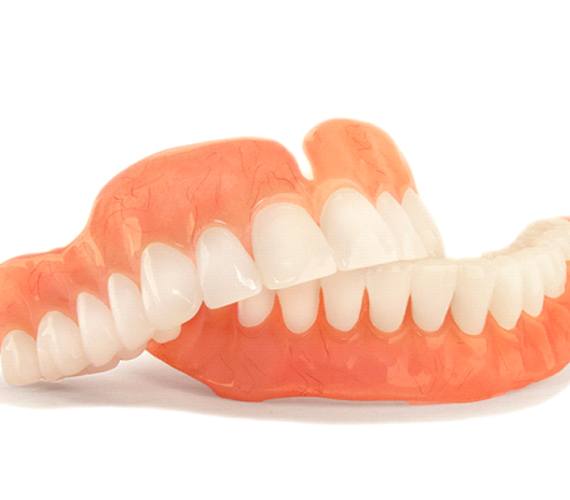 The ideal candidate for dentures will already be missing multiple teeth, or they might have multiple teeth that need to be extracted in the near future. Patients who still have a sufficient number of teeth worth saving are potential candidates for partial dentures. If you need full dentures to replace an entire row of teeth, it's generally best if you still have healthy gum tissue and a strong jawbone to support the prosthetic. Jawbone health is especially important if you want to have your dentures attached to dental implants. We'll go over your options with you before recommending a specific type of denture moving forward.
Different Types of Dentures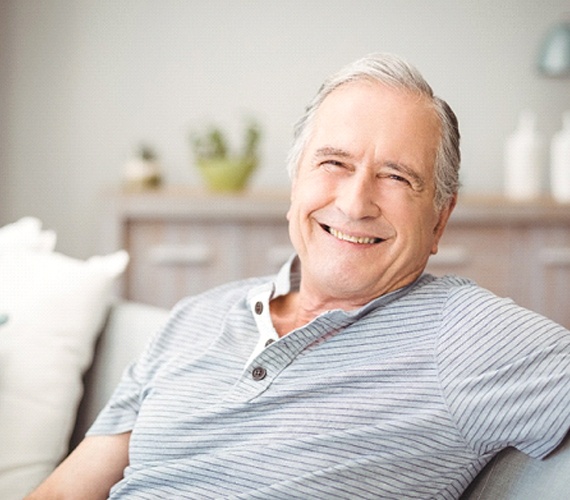 Partial dentures, full dentures, and implant dentures all have their own advantages and benefits:
Partial dentures can be customized in order to replace any number of teeth in the mouth no matter where the gaps are located. They are held securely in place thanks to metal clasps on your natural teeth.
Full dentures can rest directly on the gums and can easily be removed for cleaning purposes. You can also stabilize them further with denture adhesive.
Putting dentures on dental implants will let your jaw continue to enjoy the stimulation it needs to maintain itself. You can brush and floss implant dentures as if they were natural teeth.
Tips for Day-to-Day Use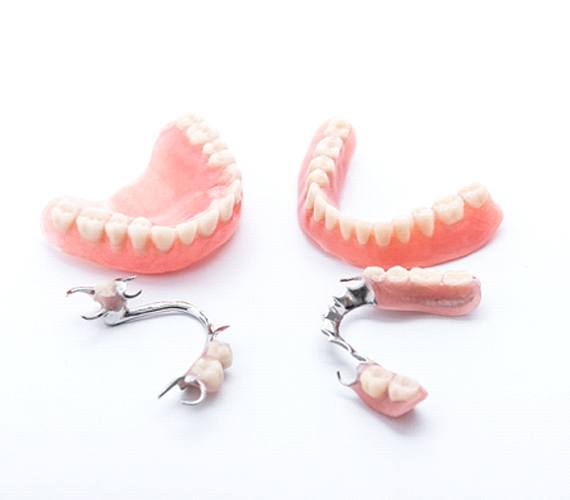 Dentures need to be brushed on a daily basis. Always take them out of your mouth first, then brush them with damp soft-bristled brush and mild hand soap. Soak them in dental cleanser every night to get rid of any food, plaque, and bacteria that may have accumulated during the day. If your dentures aren't anchored to implants, you should take them out of your mouth at night to give the gums a chance to heal from any soreness or irritation that occurred during the day.