Gum Disease Treatment – Fort Worth, TX
Eliminate The Damaging Effects
of Gum Disease
Have you noticed that your gums bleed when you brush or floss or that you have chronic bad breath? These are common signs that you suffer from gum disease, a common condition that impacts one out of two adults in the nation, according to findings from the Centers for Disease Control and Prevention. Dr. McConnell aims to tackle the problem before it progresses and causes permanent damage to your smile with gum disease treatment in our Fort Worth, TX dental office.
Why Choose Harris Parkway Dental Care for Gum Disease Treatment?
Calming Dental Sedation
Options Available
Prevent Additional
Oral Damage
Customized Gum
Disease Therapy
Scaling & Root Planing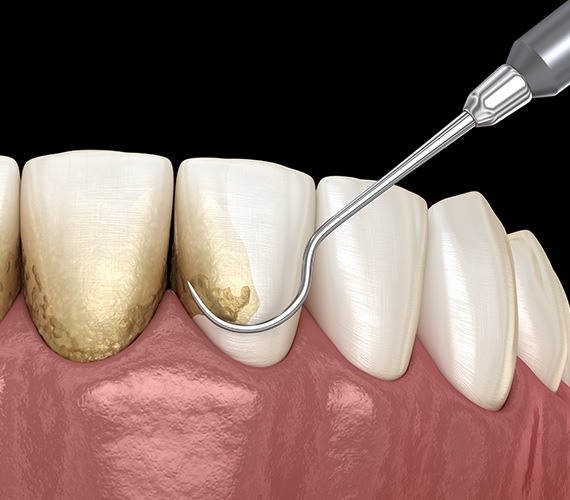 Scaling and root planing, also commonly referred to as a deep cleaning, is a two-step gum disease therapy option. During the first part, our team will thoroughly clear all plaque and tartar from your mouth, as far down as the pockets of your gums. This will control bacteria accumulation and help reduce the effects of the disease. Lastly, we'll smooth out the roots of your teeth to allow your gums to healthily reattach and provide them with protection.
Antibiotic Therapy
We typically suggest antibiotic therapy in conjunction with scaling and root planing to help control the disease and restore the health of your teeth and gums. Because gum disease is caused by build-up of harmful oral bacteria, taking antibiotics can help preserve your gum tissue and prevent tooth loss by helping your body fight them off. The antibiotic can be administered orally or topically and will act to reduce uncomfortable side-effects.