Invisalign – Fort Worth, TX
The Discreet Way
To Straighten Smiles
Do you have orthodontic problems like crooked and crowded teeth or a misaligned bite? Instead of having to undergo years of traditional treatment with metal braces, you can choose a more comfortable, completely customized, and discreet option, called Invisalign. Using customized clear, plastic aligners, Invisalign will shift your teeth into their ideal alignment in less time than the average traditional braces treatment. To start your journey towards an aligned and beautiful smile, contact our dental office today to schedule a consultation and learn whether Invisalign from our Fort Worth, TX cosmetic dentist is right for you.
Why Choose Harris Parkway Dental Care for Invisalign?
Great For
Teens & Adults
Custom-Tailored
Orthodontic Treatment
Virtually Unnoticeable
Clear Aligners
How Does Invisalign Work?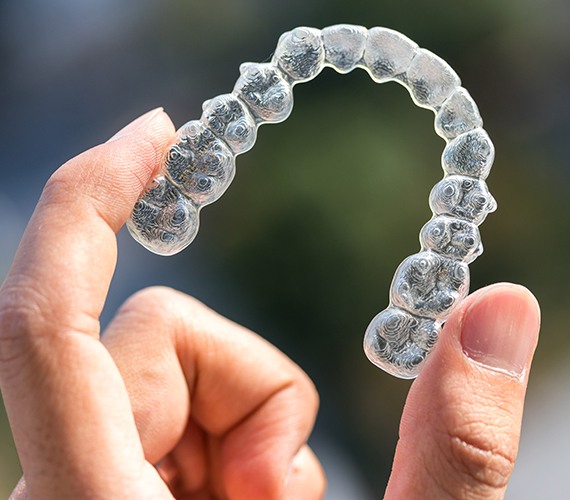 Invisalign treatment uses aligners that are crafted from an FDA-approved, BPA-free, clear plastic to place a strategically-determined amount of pressure on your teeth. This shifts them into their ideal positions. Every six to eight weeks, you'll revisit our dental office for a quick progress check and to pick up the next series of trays in your treatment. Once the process is complete, we'll provide you with your retainer options and directions on how often you should use it to maintain your hard-earned results.
The Benefits of Invisalign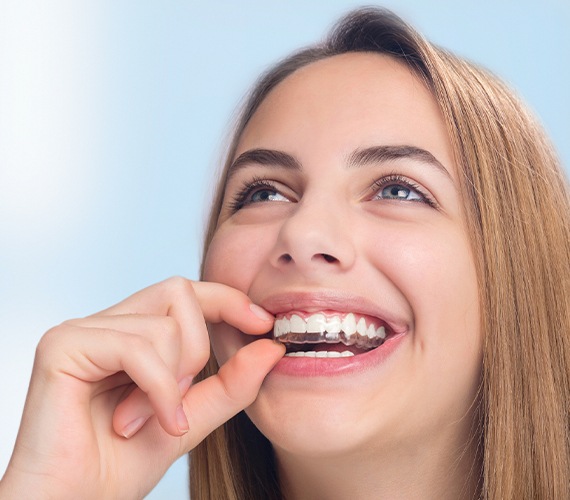 Invisalign is a popular orthodontic treatment choice among both teens and adults because it offers a variety of unique benefits that set it apart from traditional braces. These advantages include:
Customized aligners for enhanced comfort.
Continue eating what you like.
Better oral hygiene throughout treatment.
Faster average treatment time.
Discreet aligners.
Easier to brush and floss during treatment.
Ability to treat a variety of issues.
If you have any questions or would like to learn more about how Invisalign can help you, schedule a consultation with Dr. McConnell today!
Understanding The Cost Of Treatment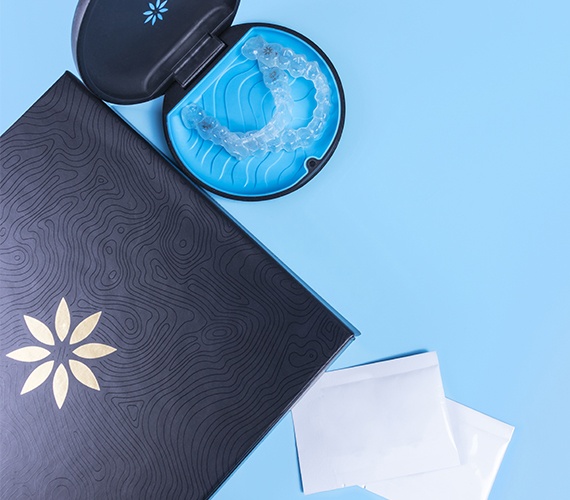 Invisalign treatment is custom-tailored to meet the needs of each individual patient. That means that there's no singular price tag attached to the process. In order to determine how many series of trays you need and develop a treatment plan for you, we'll need to first examine your mouth and take digital X-rays of your smile. This will allow us to determine whether you're a good candidate and provide you with details about the process, such as how long it will take and the cost.
Invisalign FAQs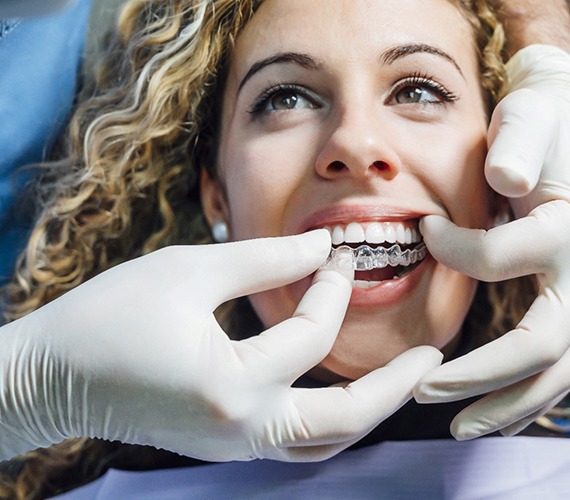 Would you like to discreetly straighten your teeth? Our team at Harris Parkway Dental Care would love to help you achieve your smile goals! If you have a specific question you would like answered before committing to Invisalign, we encourage you to contact our office to schedule a consultation with our fantastic staff. If you would simply like a bit more information before reaching out, then read on for the answers to a few frequently asked questions.
Do Invisalign Trays Make It Hard to Speak Clearly?
Invisalign's clear, virtually undetectable aligners allow you to fix crooked, crowded, or gapped teeth without calling attention to your treatment. But will it affect your speech in the process? Although the aligners are custom-made to your unique smile, you may experience a slight lisp as your lips and tongue adjust. However, this typically only lasts a short period, and many patients can enunciate clearly from the beginning!
How Should I Care for My Invisalign Aligners?
To prevent your aligners from becoming stained or warped, it is important to care for them properly. Fortunately, you can easily do so by following the below best practices:
Brush your trays after every meal with special cleaning products and lukewarm water.
Don't eat or drink with your aligners in (with the exception of water).
Store your trays in a protective case during meals to prevent them from accidentally being thrown away.
Handle them with care when taking them in and out of your mouth to avoid cracks and chips.
What Happens If I Lose My Invisalign Trays?
If you lose your trays, do your best not to panic. Instead, give us a call right away so we can determine the next best steps to preserve your progress without significantly lengthening your timeline. If you recently transitioned to a new phase, we may recommend using your previous aligners in the meantime. On the other hand, if you are almost done with the lost set, then it may be appropriate to begin the next phase of treatment a bit early. However, most of the time, a replacement set will need to be made, so make sure to notify us as soon as you realize they're missing.
How Can I Be Sure That Invisalign Will Work?
Taking the leap with Invisalign can seem scary at first, but it is important to remember that their clear aligners have helped over 8 million patients achieve straight, healthy, beautiful smiles. Plus, they have been clinically tested and researched for over two decades and currently hold an impressive 96% satisfaction rating! So, you can have peace of mind knowing that you have a licensed professional supervising your treatment with one of the safest and most reliable teeth-straightening solutions available.
If crooked, crowded, or gapped teeth are hindering your ability to smile confidently, then it is time to find out if Invisalign is right for you! Take the next step toward achieving your smile goals by contacting our office for a consultation.