Dental Implants – Fort Worth, TX
The Closest Alternative
To Your Natural Teeth
If you're missing one or more teeth, you may be able to benefit from advanced dental implant treatment in Fort Worth. Dr. McConnell has completed additional training and educational courses, allowing him to conduct the entire process in-office, from the placement of your implants to the securing of your restorations. To learn whether you're a good candidate for the procedure, contact our dental office to schedule a consultation today to discuss tooth replacement with dental implants in Fort Worth, TX.
Why Choose Harris Parkway Dental Care for Dental Implants?
In-Office Dental Implant
Placement
Enhanced Digital X-Ray Imaging
For Precise Treatment
McConnell Is An Experienced
Implant Dentist
What is a Dental Implant?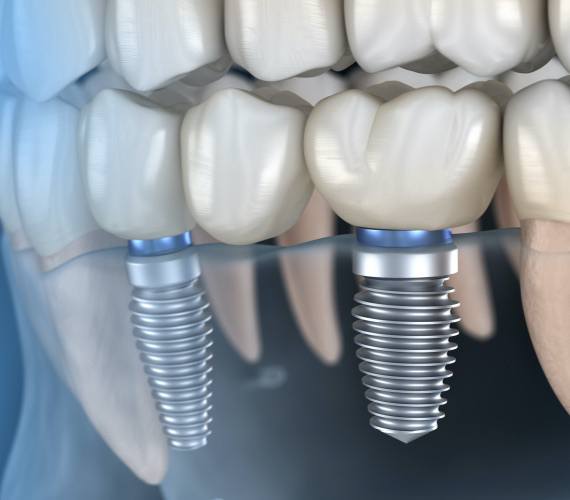 Dental implants are titanium posts that are placed beneath the gum line to replace the roots of missing teeth. They're made from a biocompatible material, allowing them to chemically fuse with the jawbone and provide it with necessary stimulation and blood flow. Once your gums have healed, we'll attach the abutments, or connector pieces, to the implants. These secure your permanent restorations to complete your smile.
Benefits of Dental Implants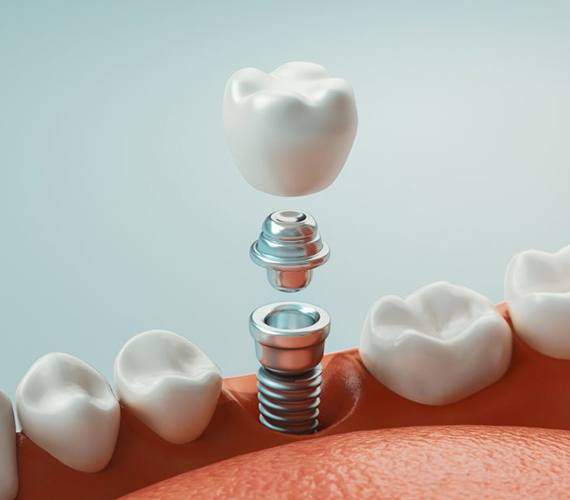 Dental implants are a popular procedure due to the variety of advantages that they offer. The best way to learn how they can benefit you is to schedule a consultation with Dr. McConnell today. Some advantages that you can expect include:
A lifespan of 35+ years with daily maintenance.
Preservation of jawbone density.
Maintain your facial structure and avoid sunken cheeks.
Easy maintenance.
Natural-looking-and-feeling replacement teeth.
No more slipping and shifting restorations.
Enhanced chewing strength.
No alteration of healthy existing teeth necessary.
Are Dental Implants Right For You?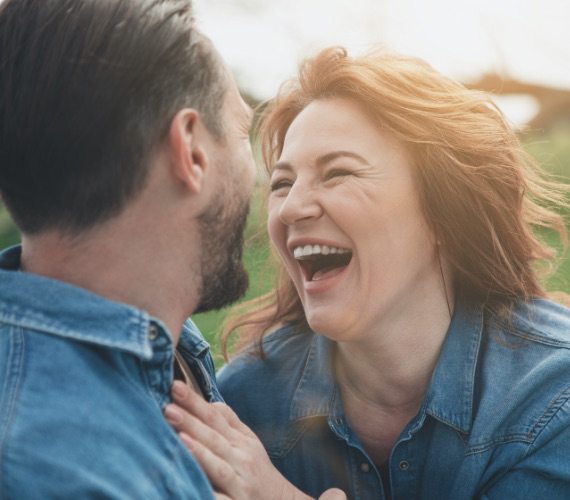 The dental implant process is custom-tailored to fit your needs. Most of the planning occurs during the first appointment, or the initial consultation. Our team will capture images of your mouth and facial structure to determine whether you're a good candidate for the procedure. We'll also walk you through a treatment timeline and explain the process so you know exactly what to expect. This is also a great time to speak with us about any questions or concerns you may have.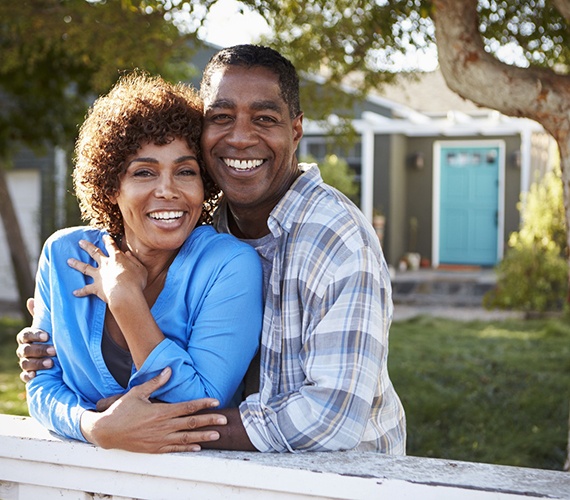 Missing Single Tooth
To replace a single tooth, we surgically place one dental implant below the gumline and into the jawbone. We'll top it off with an abutment and finally, your customized dental crown. Once placed, your implant-retained crown will keep surrounding teeth from drifting out of place to fill the gap.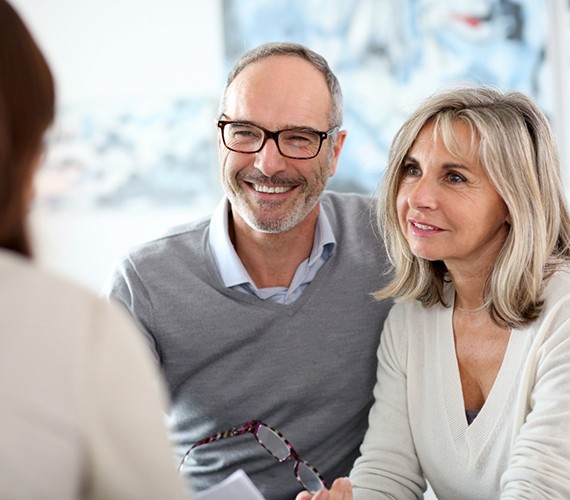 Missing Multiple Teeth
Instead of getting a traditional bridge that requires the alteration of your natural teeth to be placed, we can place two dental implants on either side of the gap in your smile. Once they've fused with your jawbone and we've placed the abutments, we'll be able to attach your customized dental bridge to complete your arch.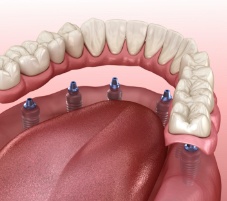 Missing All Teeth
Instead of relying on denture adhesive and natural suction, we can secure dentures to anywhere from four to eight dental implants placed along your arch. Because they provide stimulation and blood flow to your jaw, you won't have to worry about your cheeks gradually beginning to look sunken-in due to bone deterioration.
Start-to-Finish Convenience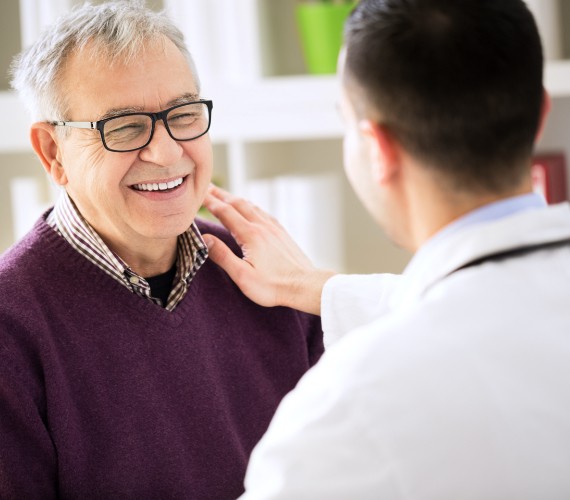 Dr. McConnell is able to complete the entire dental implant process under one roof. That means that you won't need to worry about being seen by several different specialists throughout the treatment. You'll get to stay with the same team of professionals that you trust! After your implant placement, we'll connect your abutments and begin making your permanent restorations. Once they arrive at our dental office, we'll attach them and complete your smile.
Understanding the Cost of Dental Implants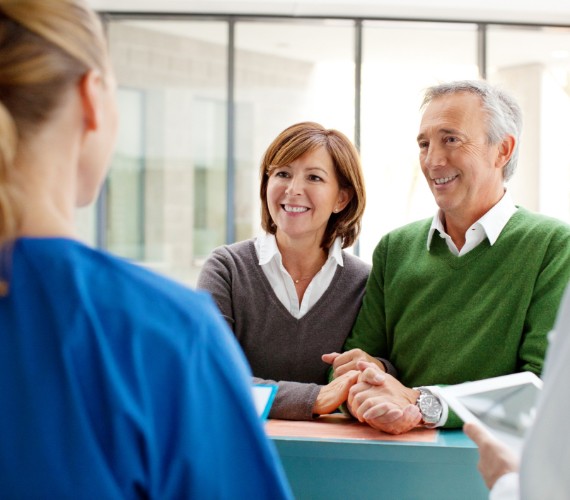 The dental implant process is custom-tailored to each patients' individual needs, which is why there's no singular set price for treatment. During your initial consultation, we'll determine how many implants need to be placed, what type of restoration you need, and other details that determine the cost of the procedure. Our team will then walk you through financial options available to you and answer any questions that you have.